Includes affiliate links that help offset our expenses at no cost to you.
This 16+ hour course is designed to prepare the outdoors enthusiast or, search and rescue member with the knowledge and skills to treat medical emergencies that occur more than an hour from Emergency Medical Services.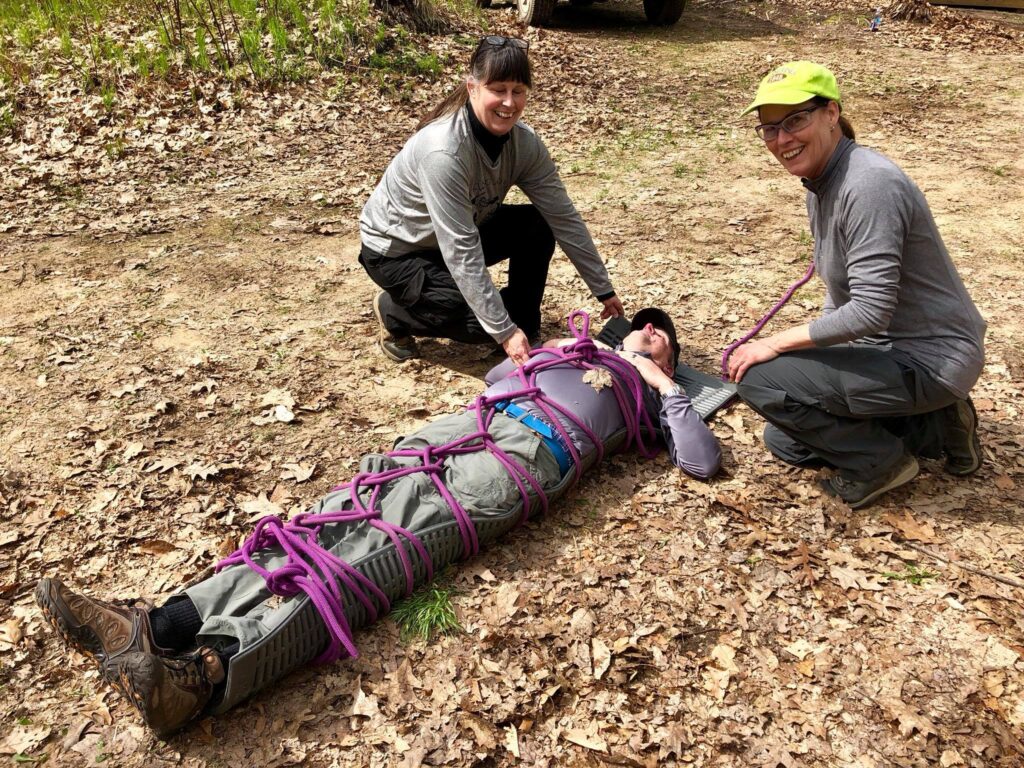 While standard first aid courses provide a background in treating injuries and stabilizing victims that are within minutes of Emergency Medical Care, wilderness medicine provides a background to sustain and stabilize victims for longer response times. Concepts will include long term care of victims and transport of subjects from wilderness environments.
This course offers the same curriculum and certification as NOLS or WMA but emphasizes practical scenarios rather than rote knowledge.
Course Curriculum
Introduction to Wilderness First Aid • What Is Wilderness?, What Is Wilderness First Aid?, Legal and Ethical Issues, Psychological and Emotional Issues, Infectious Disease Precautions
Action at an Emergency • Mechanisms of Injury • Moving a Victim • Extrication From Difficult Locations • Seeking Help • Guidelines for Evacuation
Victim Assessment and Urgent Care • Assessment • Scene Survey • Initial Assessment • Victim's History • Vital Signs and Physical Exam • Ongoing Assessment
Care of Bleeding, Wounds, and Burns • Bleeding • Wounds • Burns
Dressings and Bandages • Dressings • Bandages • Applying and Removing a Dressing • Bandaging Techniques
Bone, Joint, and Muscle Injuries • Bone Injuries • Joint Injuries
Muscle Injuries Physical and Environmental Hazards • Acute Mountain Sickness • Cold Injury • Heat Illness • Lightning Injury
Poisons, Toxins, and Poisonous Plants • Toxic Plants and Poisons • Plant-Induced Dermatitis
Animal Bites, Human Bites, and Snake Bites • Animal Bites • Snake Bites
Insect and Arthropod Bites and Stings • Spider Bites • Scorpion Stings • Tick Bites • Mosquito Bites • Insect Stings • Insect Repellents
Improving the Odds of Survival (for patient and provider) – Survival Psychology, physiological response to survival or trauma situations, priorities of life
Practical Exercise/SIMS (Simulations) – The SIMS are designed to reinforce and expand the students knowledge and application of Wilderness First Aid. In addition, the concept of improvised medicine is introduced and studied.
Unlike typical First Aid courses, the practical exercises are more intense and provide a vastly superior education. SIMS also take place in the outdoor environment and incorporate the same stresses, unknowns and difficulties that attempt to prepare the student for a "real world" emergency. Students of this WFA course are better prepared for emergencies than their "Standard First Aid" counterparts.
Who will benefit from the course: Search and Rescue Personnel, Boy Scouts, adventure racers, backpackers, kayakers, mountain bikers, hunters, forestry professionals, expedition team members, and any outdoor enthusiast.
Required Reading: Wilderness First Aid: Emergency Care in Remote Locations by the American Academy of Orthopedic Surgeons.