November 4-6, 2016
Fortune Bay Expedition Team and Courtesy Chrysler Dodge Jeep Ram have partnered up for what we call the Overland Project. The goal of this Overland Excursion was to challenge the drivers and their vehicles so they would better understand their own limits. This way they can apply this knowledge to future trips in remote areas with greater confidence whether in a team or running solo. This fall's excursion consisted of 11 vehicles and 17 participants for two days through 29 miles of challenging trails on Drummond Island.
The vehicles were mostly Jeeps, with a nice line up of Wranglers (TJ, JK, and JKU), 2 Jeep XJ Cherokees, a new Jeep Renegade Trailhawk and a Mercedes G-wagon.
All vehicles, and their passengers, arrived at DeTour State Forest Campground on Friday evening for bonding and time around the fire. Saturday morning was an early start, as the group departed the campground and drove the quick 15 miles to DeTour village where we fueled up before boarding the ferry to the island. On Drummond Island, our day officially began with a briefing at Pins Trailhead, the team was informed of safety and Tread Lightly principles, some insight into the adventure that awaits and listened to a poem about Jeeps, inspired by Dr. Seuss stories. Each stretch of the trails ahead were a new challenge as we rotated our team often to give everyone a chance to lead and make decisions. The trails were littered with rocks, tight, challenging, rocky, muddy, slippery, and did I mention rocky? With a rock base to most of the trails, everyone worked together, being the eyes for each other and lending support through and over large rocks and other obstacles.
Part of what makes Drummond Island and its trail system special is the cooperation between different local off-road clubs, businesses, and the MI DNR. The success of the trail system can be attributed to the collective effort of all parties involved to keep the trail system open to the public. Although trails have existed and have been explored by locals for decades and beyond, there was really no clear-cut system in place even 15 years ago. Some trails crossed over personal property or were not interconnected. But today, there's over 117 miles of off-road trails broken into roughly 72 miles of ORV Trails (50in wide), and about 47 miles of ORV Routes (72in wide) for full-sized vehicles. We were exploring the Routes. Some of these require high clearance 4X4 vehicles because of the rocks, logs, and holes. If challenging trails set deep into a boreal forest, sound good to you, then Drummond Island should be on your list of trails to explore. Surrounded by the waters of Lake Huron, in a true wilderness setting, the experience is unparalleled by any other place in Michigan.
The first to lead was the smallest of our Jeep companions, the Renegade Trailhawk. We all were amazed at the capability built into such a small vehicle, and proud of the new driving skills acquired by its owner. Next would be the Mercedes G-wagon. We were all excited to have the G-wagon join us because we like to learn about other vehicles capabilities. Following the G-wagon was the largest most modified of the JKU's, this Jeep is tall, built-up and even sounds mean, it made the punishing rocky trail look easy. At our next fork in the road we were led by one of the two XJ Cherokee's in our pack. What a great machine these two vehicles are, older, yet incredibly capable and such a great addition to the group. Finishing out the day was the modified TJ, Cherokee, and 3 more JKU's. Each of which, lead the team through tight winding trails, rocky terrain, and deep water. Along the trails we encountered a few dirt bikes, ATV's, and large off-road buggies purpose built for rock climbing. There were a few breakdowns on the trail, but thankfully not within our team. The black JKU Respawn led us to our final obstacle of the day, the famous "Log Jam" (completed by 6 of the vehicles, a flooded trail about 120yds long, 20-33in deep with logs floating around in it). From there we headed on to our camping spot for the night.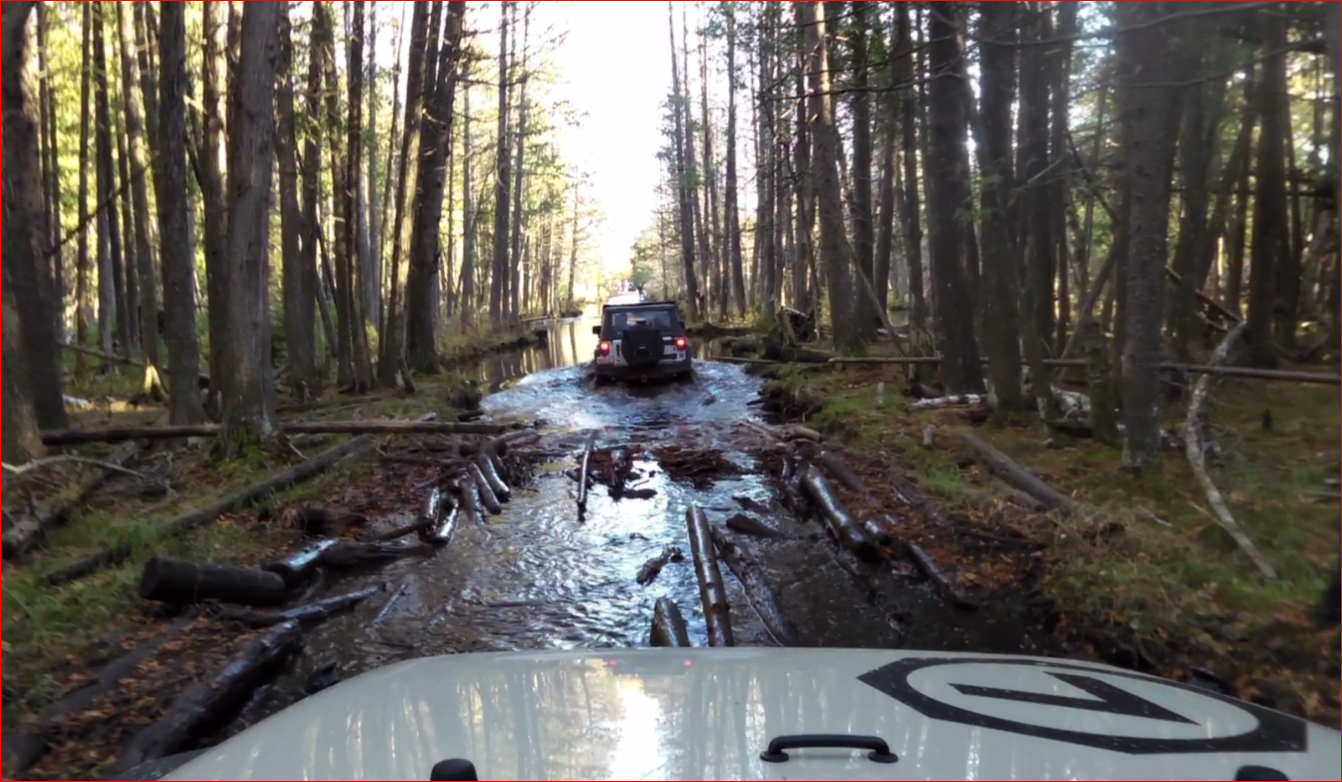 We set up camp at what looked to be an old gravel pit, built a fire, and enjoyed dinner and each other's company.
Sunday would prove the weather forecasts wrong. With lows barely hitting the 30 degree mark, it was colder than expected and we were a little slower to get moving. The weather and promise of even tougher trails ahead did not cloud our spirits for the day. We took a few group photos, said goodbyes and began our voyage 3 vehicles short. With 8 vehicles left, the JK, Rubicue, lead the way to Marblehead. Here, the wranglers young and old, flexed their suspensions and scratched their bellies on "the rock steps" of Marblehead. We walked the steep trail down to the waters of Lake Huron.
From Marblehead, the JK, Darth Wader would lead us through some of the most challenging trails of the weekend. Slick clay mud, extremely rutted trails, tight turning points, and very deep water, challenged each of the remaining 8 vehicles and the skills of their drivers. We emerged from the trails excited none of us sustained major damage and none of us got stuck so bad that we needed a tow, but sad at the same time it was over.
Very few things bring peace like experiencing nature and bonding with good friends. Where the paved roads end, adventure begins, thank you for the laughs and friendships made.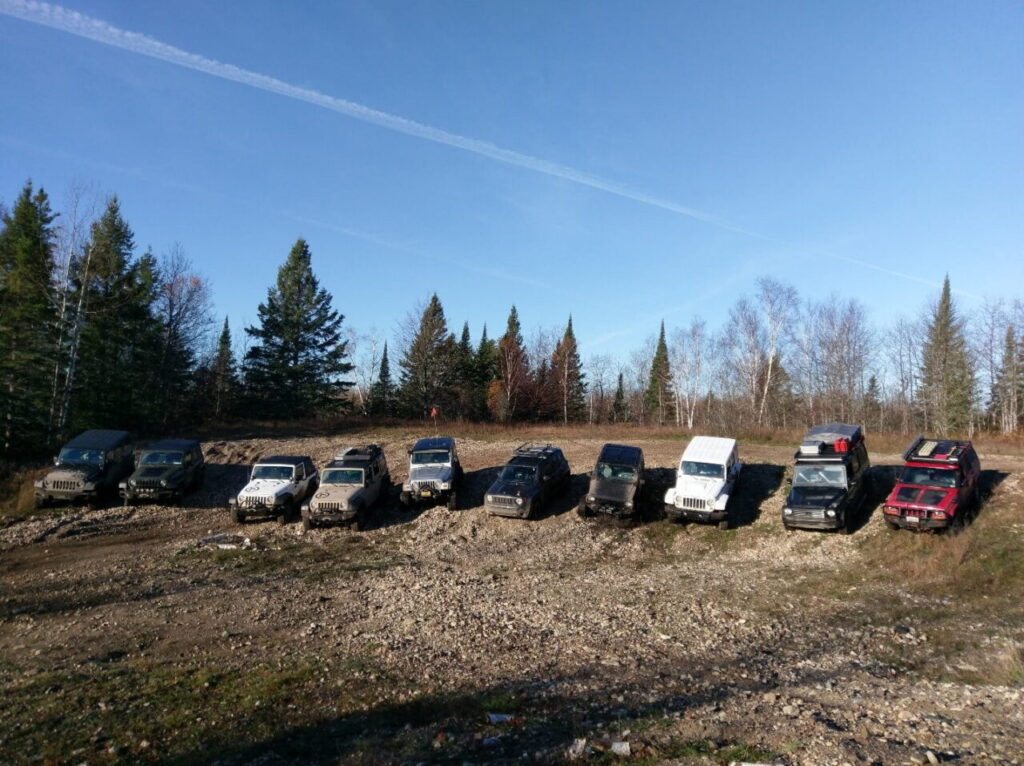 Here are some stats: 29.5 miles, Moving time of 5 hours and 33mins, Avg speed of 5.3mph, Min. Elevation 551ft, Max. Elevation 794ft
I'll leave you with the poem that began our trail ride:
Monkey see, monkey do
I can drive and so can you,
whether old or sparkly new,
follow Kramer, Long Rifle or Blue.
Be it on the trails or seen at the mall,
a Jeep is a Jeep no matter how small.
Out there things can happen and frequently do, even to people experienced or new.
No need to panic, worry or stew,
the team is here to show you just what to do.
You won't lag behind, because you have the necessary speed,
to maneuver any obstacle we'll even teach you to lead. 
We're off to great places, today is the day,
our trails are waiting, so let's get on our way!