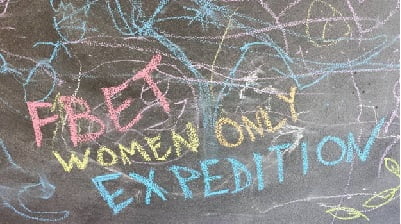 What started years ago as a vague idea, a dream, a belief that other women would want to experience the growth and restorative power of the outdoors became a reality in January with the launch of the women's expedition. Whoa!
We were nervous. What if no one signed up? What if no one was interested? What if we were kidding ourselves that there were others who would relish the idea of spending time by themselves in the woods? What if we had put our hearts into something that absolutely failed? What if…..what if the class sold out in 2 weeks!?! It did! It filled so quickly that we barely had time to warn that it was getting full and if they didn't sign up, they would be on a waiting list.
Who are these women? What made them decide to join? Why did they not even hesitate before saying, "I'm in!" Some were raw, having never camped before. Some were car campers, some were hikers. They were young and not so young. To a person, they had never solo camped. They were excited and eager, and somewhat afraid of what they had just signed up for. They knew so little and it was Fortune Bay's job to teach them and prepare them for their adventure.
Two classes were required, Land Navigation 1-3 and Survival & Improv 1-2, both of which would give the women the knowledge to handle being on their own in the woods. Their minds felt messy with their new knowledge – it happens like that. They felt anxious with a bit of fear thrown in. It happens like that too.
There were practice weekends in which to turn their knowledge into skills in a safe environment. They asked questions. They learned. They did. They built fires, some set up tents for the first time; they hiked, and practiced packing a backpack. They got wet and they got dirty. They learned wilderness first-aid; they embraced the map and compass. We set up what we thought were challenging orienteering courses in the woods and these women simply went and conquered the course. Fears were laid to rest as they realized how capable they were of each of these tasks.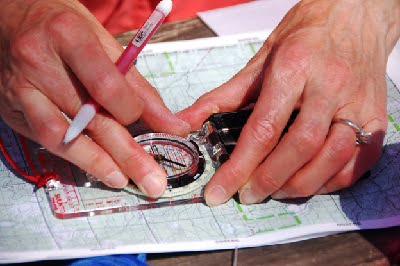 They willingly offered of themselves and bonded with each other. They shared their stories and successes, talked about their fears, and slowly, they became a tribe.
Tuesday: It is time. We met at a campground the night before our departure to the islands. An impromptu gathering on the beach, yet each woman knew to go there. We talked, built cairns and waited for the sunset. There may have been conversations about pack weights. A small fire later to celebrate the beginning of the real adventure, but not one tent was pitched. Funny, everyone slept in their car that night.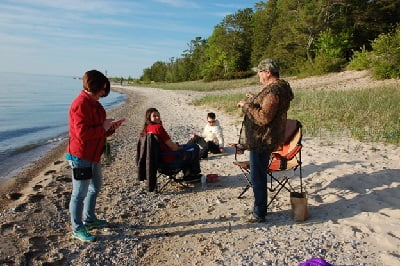 Wednesday: We woke early, eager to start the adventure. A quick breakfast of crepes and we were ready to board the ferry. We leave the docks, the drawbridge is raised to allow for our passage. The journey continues beyond these gates – they know this.
2.5 hours later we arrive on Beaver Island, but what would an expedition be without a 'situation'? Seems the captain of our shuttle to Garden Island has our arrival date wrong. He thinks we're arriving tomorrow. No worries, the ladies hang out at the community center while we track down the captain. Just over an hour later we're back on track. The captain has been found and we're loading up.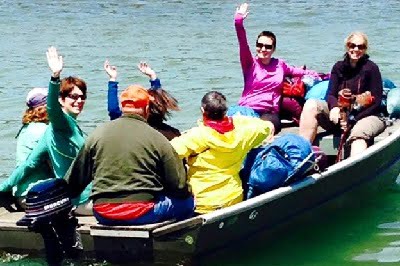 A short ride to the island. Gear is unloaded, base camp is established and we begin the task of finding campsites for the women.
Not too close to each other – each woman is here for her own journey and adventure. Some go to the West, seeking shelter in the cove. Several head East, planting themselves along a rocky coast, tucking back into the woods for privacy and shelter from the elements. And then they are alone. Alone, except for the relentless mosquitoes who will plague the participants throughout the adventure.
I'm back to camp by 5:30 where I have a glass of wine and put up my tent. In the evening I'm curled up in an conveniently left-behind Adirondack chair on the beach. It's a lovely night for sitting and watching the waves. I'm thinking about the ladies and I wonder what the night will be like for those in remote locations. Part of me hopes it will be easy for them. Part of me, not so much – I want them to feel the challenge and the joy of overcoming, but this is their journey and it will be what they make of it.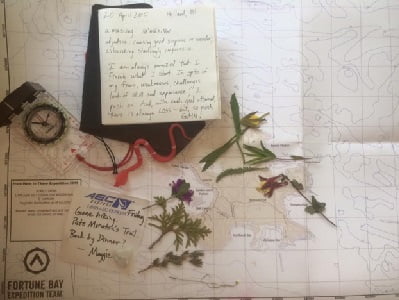 Thursday: Morning draws me down the beach to check on the women camped nearby. All is well. A leisurely breakfast and it is agreed that the leaders will head to the North end of the island to see what we can find. We check on the women as we go and some join us for exploring. It will rain– sometimes hard, but at least consistently all day. We find the cemetery and enter quietly, with respect for those who are buried here. A cobweb is cleared, a board straightened, offerings of Cedar are left behind and then we continue on. We are already soaked from the rain, but our goal is to find abandoned structures and Kee's cabin. Success on both counts. What a fascinating place Kee's cabin is with amazing, primitive 'outbuildings'. It's a working cabin and there is important work all around. We stay for a bit, eat lunch and relax in a covered structure with an amazing wood stove in the middle surrounded by primitive seats and a swing. This is a wonderful gathering place…
The hike back to camp is fairly direct, but we are soaked through boots and clothing, and we're muddied by the time everyone is dropped back at their camps. We leave them in good spirits – it's all part of the adventure.
Friday: The ladies start trickling back to basecamp. Some go exploring, some stay in camp to relax or read. A few paddle in the cove. It's a day to relax.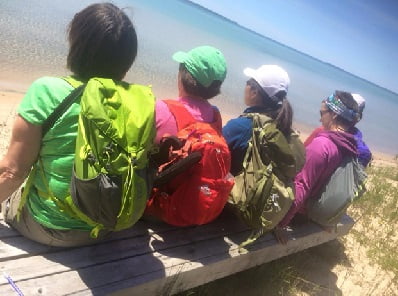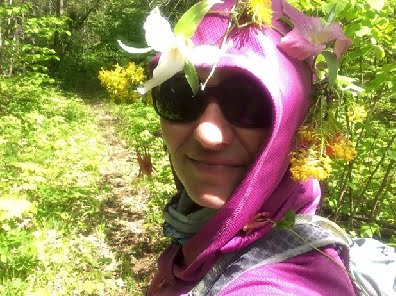 We talk at the fire that evening, sharing stories of their time on the island. Some came for healing, some came for adventure and some came for medicine. They are soul searchers, these women, and though each journey was different, I believe they have found what they were looking for. Their experiences were as they wished. Their take-away is that they leave this adventure better equipped to find their way through life. They have more skills and a new mindset that will help them along the way.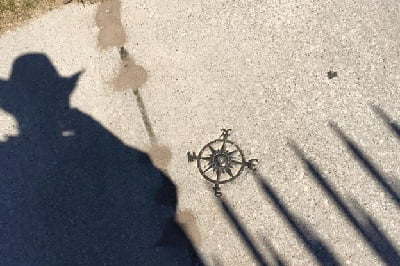 Funny how the outdoors can clear away the mess and help you find your way.
Know this, if you want the road to happiness, if you want to grow, you have to be willing to get messy – your body, your mind, your space. Your fears and anxieties will take up space in your mind and mess it up – for a time. You may get cuts and bruises, your ego may take a beating. Let it. Get with the messy and grow…from here…to there.
~Larri "Love Boat" Luthy
Expedition Leader
About Larri "Love Boat" Luthy
I am a nemophilist who plays at being a city girl. I find great joy in solo trips, but will explore with others as long as they carry their own pack and paddle their own boat. I toy with photography and feel that my camera is an indispensable item in my pack. I also strive to be a more knowledgeable forager and have been known to collect wild edibles along the trail for adding to my evening meal or for making tea at camp.