Many of us spend countless hours, days, and even weeks venturing out into the wilderness looking for adventure, exploring, or simply to get away from the hustle and bustle of our chaotic everyday lives. The Earth is a beautiful and magnificent place; so get out there, do what you love, and enjoy every second you can…but be safe about it and never underestimate the power of Mother Nature.
When it comes to Mother Nature it doesn't matter if you live in Michigan, Arizona, or half-way around the world – lightning, for example, is still lightning, and it is extremely dangerous. So when I heard this tragic story, I knew it was one I had to tell – if nothing else but to spread awareness to others regarding the dangers of lightning (wherever you may live) and to provide advice for helping to keep yourself and others safe when venturing out into the wilderness. My heart goes out to the victims and survivors.
(This story is a recap of the events as they occurred; told to me by Corey "Poochie" Melker during a recent interview. Photos are courtesy of Corey "Poochie" Melker)
On June 26, 2015, a group of nine individuals, lead by Corey "Poochie" Melker (35), headed out for a weekend backpack along the Arizona Historic Cabin Loop Trail near Payson, AZ. The original plan was to hike the Fish Creek Trail to the Black River, but extreme burn-damage in the area resulted in the group instead planning to hike the 16.8 miles along the east Cabin Loop Trail. Located in the Mogollon Rim, the Cabin Loop Trail was part of the early Forest Service era and linked a number of historic cabins to the fire guard station. This was a trail that Corey knew well, having hiked it a number of times previously. Although the hike could be easily completed within a day, the plan was to spread the hike over a two-day period to allow more time to enjoy the spectacular landscape as well as allow slower hikers the opportunity to enjoy the trail and take breaks as necessary.
The group rendezvoused on Friday night and car-camped just off 87 and FR395; just past the Blue Ridge Ranger Station. It was an opportunity for participants to meet each other for the first time and position themselves closer to the Cabin Loop trailhead for an early start in the morning.
The group arose early in the morning excited to begin their trek into the wilderness. It was a beautiful day with crystal clear skies. They were on the trail shortly before 10am, with Corey leading the way. Corey would stop periodically to let others catch up and wait for the rest of the group if the trail got sketchy. The group was in no hurry and simply enjoyed their surroundings.
Around 1pm, and about 6.5 miles into their trek, the group decided to break for lunch. They stopped at Dane's cabin to refuel and fill water bottles from the pipe-tapped spring. It was a beautiful sunny day, not a cloud in the sky. Spirits were high. They rested for about an hour. As they were getting ready to depart, Corey noticed a dark cloud off in the distance that resembled a mountain far away. There was a faint sound of thunder. Corey noted at the time, he didn't think much of it given the distance away.
As the group was leaving, they noticed a herd of elk, about 30 or so, and decided to follow them. They had travelled no more than a 1/2 mile when Corey noticed the thunder again; this time it was much louder, distinct. The once small cloud in the distance was now much larger and had darkened much of the sky. A sudden and loud clap of thunder frightened one of the dogs that had been accompanying the group, and it took off running into the woods. It was then, also, that it began to rain.
The group decided to cross the road to gather and don their rain-gear under the shelter of the forest and to wait for the dog to return once the storm passed. Corey noted that he could see blue skies from behind the storm and assumed it would be a short storm. Suddenly there was a strike of lightning less than 1/4 – 1/2 mile away. Corey remembered turning to another participant and mentioning "that would really suck if it were any closer."
The individual who's dog had run away decided that she would walk back down the road toward her vehicle in the event she had to wait through the night for her dog to return. The rest of the group patiently waited for the storm to pass. At least 40 minutes passed with nothing but rain. Corey mentioned that he had looked around and saw the other's faces, wet and miserable; with the exception of one. Christine Garcia (24) was sitting on a log under the shelter of a tree smiling, enjoying every minute.
Then, within an instant, everything changed.
A bolt of lightning hit the tree closest to Christine. The result was instantaneously fatal. Christine was only 24 years old, young and just out of college; she had her whole life in front of her still. Corey, who was standing only 6-8ft from her, was victim of a lightning side flash; the primary flash jumped and sent a jolt of electricity surging through his body.
Corey recalled "One second I was standing, the next I wasn't. It was a total out of body experience. I went to the ground hard, seizing and convulsing. I had a sensation of drowning. My lungs were filling with mucus. I couldn't breathe and I couldn't move. I remember trying to point, trying to communicate that I couldn't breath, but I couldn't yell for help. I thought I was going to drown." One of the other hikers saw Corey struggling to breath and rushed to help, pushing him over to his side, allowing him to cough up the fluid from his lungs.
They needed help, but they were in the middle of the wilderness and no one's cellphone had a signal. Two of the female hikers took off at a full sprint down the road in search of help. They came across a campsite. No one was at the camp, but there was a vehicle with the keys sitting on the front seat. The need to get help far outweighed the need to ask permission. They quickly drove the vehicle back to the scene of the accident.
Corey continued to seize and convulse. He recalled being coherent and in tremendous pain. "all I remember saying over and over is 'it hurts so bad'". He was helped into the back seat of the car. Corey mentioned he didn't really know what was going on at the time. There was a lot of panic and confusion as they drove around frantically looking for a cell signal. They eventually located the Rim about 4 miles down the road and managed to call 911. But the news from the other end of the call was not good news.
The weather prevented aircraft from flying out due to the risk involved. Ambulances and ground vehicles were being deployed, but it would take time to reach them.
Corey was having difficulties with motor skills and vocal functions. Miraculously, he managed to remember and give someone his mother's phone number so that they could call her while they were still able to get a signal on their phones.
A few hours passed before help finally arrived for Corey. In the meantime, the others were helpless, unable to do anything to help his pain or control the seizures. They could only try to comfort him, keep him conscious, and ease his pain through awkward humor. He recalled another member holding his hand and trying to keep him conscious. "I remember thinking 'maybe if I just close my eyes, the pain will just go away'. When I snapped myself back, I was balling, I felt like I was dying. I wanted my mom and kept saying it over and over".
When the ambulance finally arrived, Corey was quickly loaded onto a gurney and they attempted to drive him to the hospital. The ambulance had barely made it three miles from the site when it became apparent that he would not survive the two hour drive down backroads to reach the closest hospital in Flagstaff.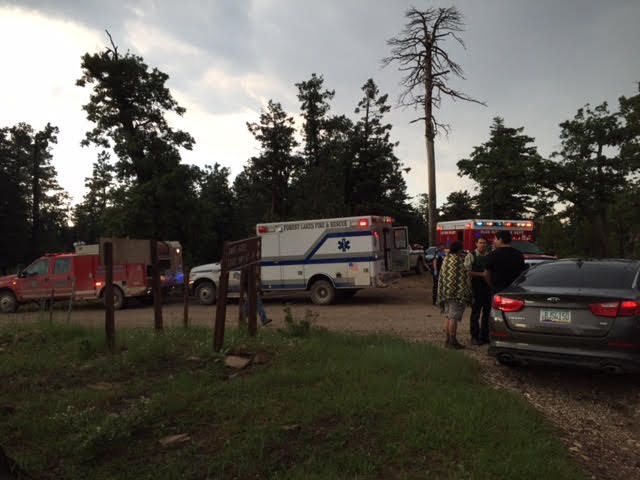 But then the call came. A "weird little break in the weather" allowed for a DPS helicopter to take flight. Corey was finally airlifted to safety and within 15-20 minutes arrived at the Flagstaff hospital where he was immediately admitted to the trauma unit. Corey spent three days in the Intensive Care Unit and another 2 days as an inpatient before finally being released, but he will never be the same.
Among the temporary side-effects such as infection, scarring and blood clots, the lightning strike has caused serious and permanent damage. Corey has permanent retinal scarring in both eyes where the current travelled through his body and nearly exited through his eyes. His nerves are hypersensitive, resulting in constant and severe pains. He is currently highly medicated in an attempt to minimize the effects of the pain.
Corey and Christine were not the only two affected by the lightning strike. Three other individuals who were nearby also suffer from injuries. One individual received the bulk of the current through her hand and may loose a number of fingers due to the extensive damage caused. Two other individuals suffered from superficial injuries.
"Its not going to stop me from loving the wild. I feel more connected with the Earth, having experienced its power," Corey had told me.
Corey stated it was a day and a half before he even learned what had happened to Christine. "It could have happened to anyone. Christine was out there doing what she loved. That's what we all need to do. 'Do what you love', cause we're only here for a short time.
The group is raising money to build a permanent memorial in honor of Christine Garcia and to help pay for unpaid medical expenses. If you would like to help out, go to:
There is also a scholarship in the name of Christine Garcia, which is raising money to help young women like Christine:
So how can you protect yourself if caught in a thunderstorm?
FACTS:
Lightning is the 2nd leading cause of storm deaths in the US, killing more than hurricanes and tornadoes combined!
10% of lightning strikes are fatalities, the rest result in injuries and sever neurological damage
In the U.S., the most reported incidents of lightning fatalities occurs in Florida and Texas. The highest reported incidents of lightning related injuries are in Florida and Michigan.
Myth – Lightning strikes the highest point – FALSE!
Lightning has been documented traveling 64 miles from a storm cloud!
Where does Lightning Strike most?
What is the most common way to be effected by lightning?
When am I at risk of a lightning strike?
Raindrops/hail is present
Audible thunder/visible flashes are present (this usually means that lightning is less than 10 miles away)
Large towering clouds (Cumulonimbus)
Static on an AM Band Radio
What do I do if caught in a thunderstorm with potential lightning?
Seek shelter immediately in an enclosed building/vehicle
Descend to a lower position – high spots are dangerous
Keep moving away from exposed/wide open areas. Head for areas with clumps of trees or deep ditches.
If on open water, get to shore to seek shelter. If you can't get to shore, keep moving
Avoid unsafe locations such as: cave/mine entrances (lightning can travel the walls), isolated trees, unprotected pavilions/picnic shelters, bleachers (metal or wood), metal structures of any kind, water, baseball dugouts, under cars, flag and telephone poles, railroad tracks, fences, shorelines.
If in a group, spread out at least 100ft from each other
Prepare for the lightning position
Safety Protocol:
Remember the 30/30 Rule! Lightning can strike long distances. If 30 Seconds of Less "Flash to Bang", seek shelter. Wait 30 Minutes after last lightning flash before leaving the safety of your shelter!
Most casualties occur Before, and Especially After a storm. If you can see or hear thunder/lightning, seek shelter immediately!
Lightning is a very real risk and danger when venturing out into the wilderness and is often underrated. But that doesn't mean you need to be fearful of being outdoors. Do what you love, and be knowledgeable, be aware of the situation at all times, and should the need arise, do your best to minimize the chances of becoming victim of a potential lightning strike.
~Robin "Killer Bee" Hutsko
Expedition Leader
About Robin "Killer Bee" Hutsko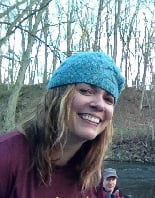 I spent much of my youth playing in the outdoors, hiking, camping, fishing, boating, snowmobiling, dune-buggy…you name it. I always loved the outdoors, but somewhere along the way I became citified. My passion for the outdoors was revived in 2011 when I joined FBET. One hike led to another, which led to classes, training, an adventure race, backpacking, kayaking, mountain biking and even off-roading. My most recent adventure took me on a move across country to Arizona. I'll be back though for periodic events/expeditions. What can I say, I love the adventures and can't get enough